Shipping Information

Rouses ships with FedEx for all of our shipments.

King Cake & Other Perishable Item Shipping Information

We take great pride in our King Cakes and each cake is baked the day it is shipped to ensure freshness. We make every effort to have the cake baked and shipped to arrive on the date requested; however, occasionally there are delays which are out of our control.
Delays or delivery failures resulting from inclement weather (snow storms, etc.) or natural disasters are not covered under our return policy. Once a delivery has been attempted, delays resulting from a second delivery attempt are not covered. In the event that a significant delay results from our or our shipper's fault, we will refund or reship on the next available date.
It is the customer's responsibility to provide and ensure a correct, complete address for delivery at the time of the order. We are not responsible for failed or delayed deliveries due to erroneous or incomplete addresses, including, but not limited to, wrong or missing apartment numbers, ZIP codes, etc. If a package is en route to be delivered and an address correction is needed, the customer is responsible for any address correction charge from our shipper. This fee is typically $11.
Shipping
Anything you can add to cart is in our warehouse ready to ship. This is one of the many ways we aim to provide outstanding customer service.
Being based in Thibodaux, Louisiana allows us to provide customers from the South with 1-2 day shipping with most FedEx ground shipments. West Coast customers are 4-5 business days on average for FedEx ground. However if your package is time sensitive we encourage you to pick the appropriate shipping speed.
Upon shipment of your order our systems will email you tracking details. Often this is caught by spam filters so please check this prior to contact us for tracking info. Should you not receive tracking information email us with your order details and one of our friendly staff will gladly provide you with tracking info.
Should there be a problem with your order please contact sales@rouses.com
Ground Shipping Map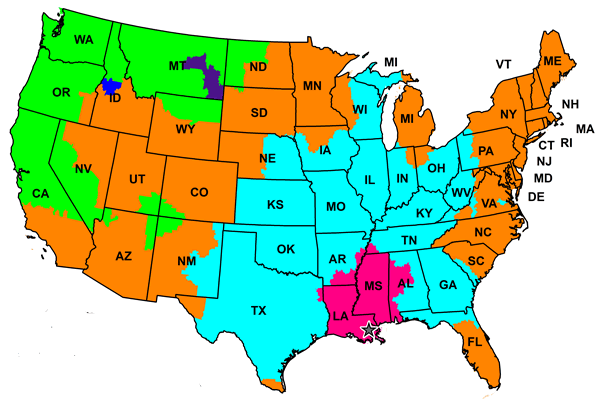 Transit times start the day following shipment. Example - An order placed on Monday with a 2 day delivery time will be out for delivery on Wednesday. Monday is day 0, Tuesday day 1 and Wednesday day 2.